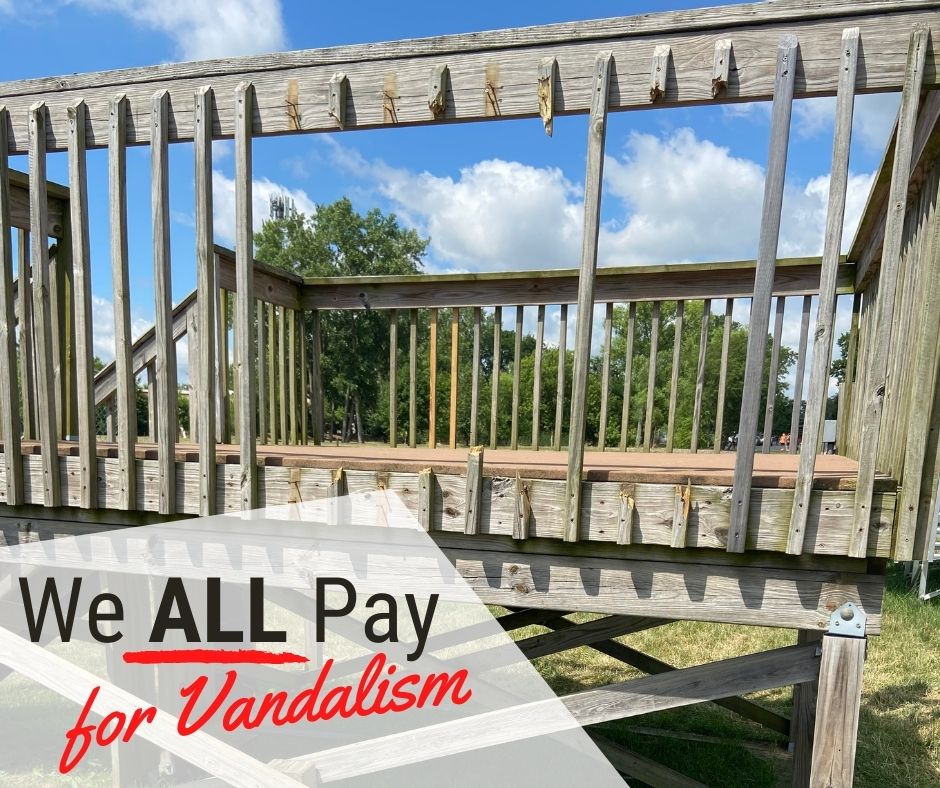 A Plea for Help from Your Parks Director
Posted on September 18, 2020
In a year ravaged by a global pandemic, civil unrest, an economic crisis and many families with loved ones losing jobs, your community is facing yet another challenge — a local challenge we must meet head on together, as a community. This local challenge is depleting budget dollars meant for park and playground improvements, repairs, and sustaining the overall quality of life you are accustomed to in the great town of Carol Stream. This challenge is not a new challenge by any means; however, I can't simply sit by and watch a park system and a community be deliberately destroyed by random acts of vandalism without making a plea to each and every one of you for help.
Public property within the Carol Stream Park District's park system has been continuously vandalized this summer, totaling over $20,000 in damages.  From Armstrong Park to Hampe Park to Community Park, random acts of vandalism have occurred almost daily, forcing your Park District to close washroom facilities, shifting budgeted funds to repair these items. In turn, this takes away funds from items such as new swings or new playground surfacing, not to mention taking countless staff hours away from our routine daily maintenance.  Simply put – when we are repairing vandalized parks, we can't focus on delivering the great outdoor spaces you deserve!
Your Park District is staffed by true professionals who truly care and are passionate about what they do on a daily basis. These professionals take pride in delivering well-maintained, safe open spaces and recreation programs each and every day. These countless acts of vandalism have challenged our ability to deliver those positive recreational experiences as we are simply repairing vandalized parks and playgrounds . . . not focusing on progress!
Today I write to you on behalf of myself, the Park District Board of Commissioners and Park District staff, earnestly asking YOU to assist us with this local emergency. If you see anyone vandalizing YOUR public property, call the Carol Stream Police Department at 911 and/or the Carol Stream Park District immediately.
If you see vandalism actively happening, call 911. Vandalism is a misdemeanor, a punishable offense. Vandals should be arrested.
If you see vandalism already done at your local park, call the park district at 630-784-6100, so we may photograph damages and begin clean-up or repair.
I am a proud man who dislikes asking for help but today is the day. The Park District and the community need you more than ever!  Please come together, rally and unite to help save your parks, playgrounds and open space from vandals who are causing major destruction right under our noses. The time is now to help take back this community. When you see something, you need to say something.
If you have any information about vandalism in your parks, please email me at shaneh@csparks.org
Yours In Parks,
Shane Hamilton
Director – Parks & Facilities