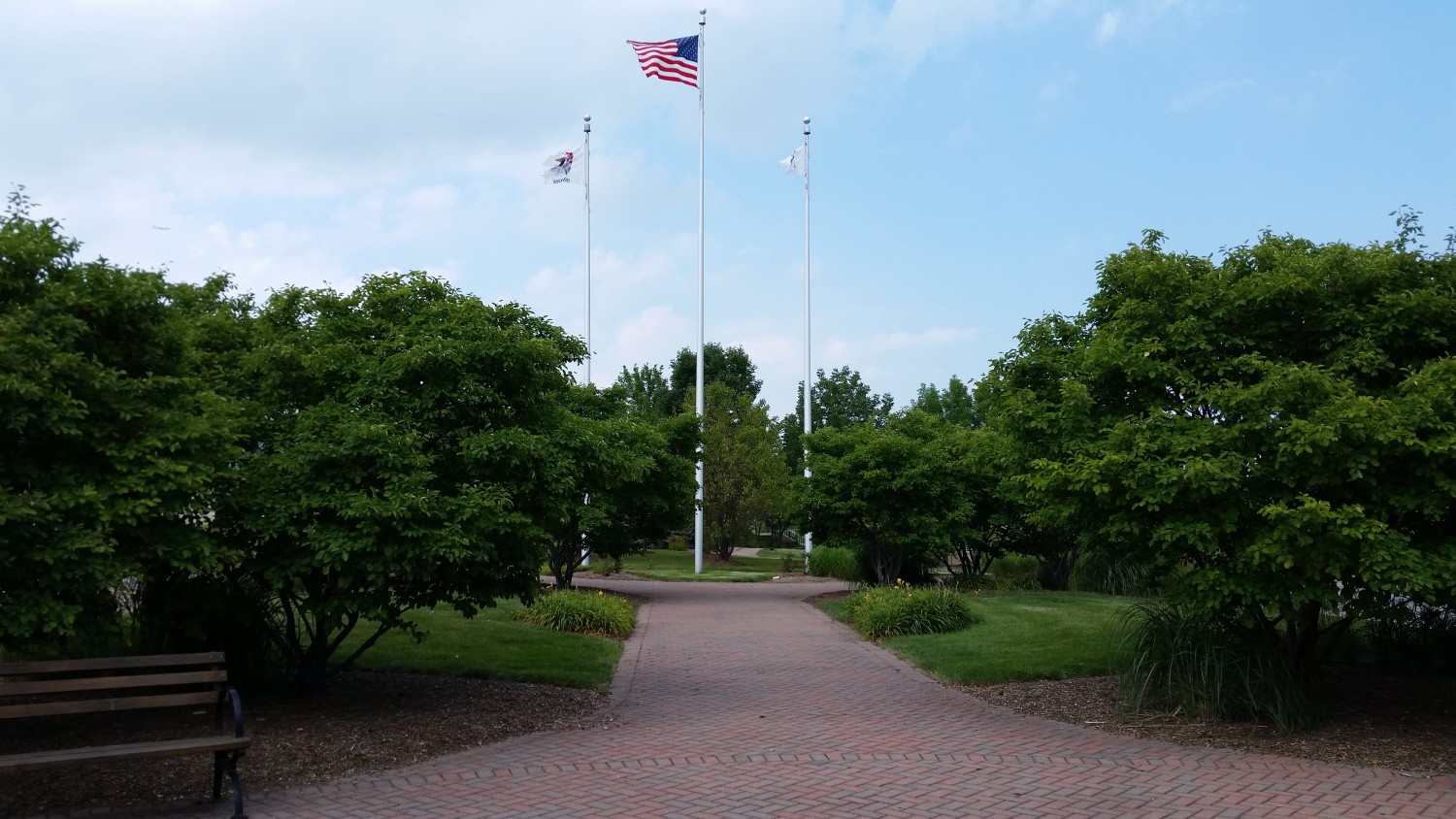 Carol Stream Town Center suggested for Veterans Memorial Renovation
Posted on August 22, 2017
The Memorial Park Task Force, in partnership with Carol Stream Mayor Frank Saverino, the Village of Carol Stream and the Carol Stream Park District, have agreed with the suggestion that the new memorial outlined for the Memorial Park renovation project, also referred to as Veterans Memorial, be constructed at Carol Stream's Ross Ferraro Town Center, located at the corner of Gary Avenue and Lies Road, Carol Stream.
Carol Stream's Memorial Park, located at 342 Thunderbird Trail, is scheduled for a renovation to further honor the community's brave individuals and stand as a tribute for years to come. Fundraising efforts for the renovation have been ongoing since Memorial Day 2016 with the goal to raise $200,000. Plans include an improved walkway, small shelter, new landscaping, lighting and various decorative features.
"The significance of this Veterans Memorial reconstruction, and ultimately a beautiful plaza memorial when completed," says Mayor Saverino, "should be at the forefront of this Village. The town center is a popular gathering place for our residents and their families, who come to listen to live music, to attend special events, or to just enjoy the fountain and scenery. The new memorial will be seen by hundreds who come to visit weekly."
Moving the project to the more accessible and visible town center, which already has a brick plaza, electricity, flag poles and parking, will enhance the attributes of the property, named after the former mayor, Ross Ferraro.  An architect has been on site and new drawings are expected soon. "With the existing plaza in place, we may be able to decrease construction costs and arrive at our goal sooner," says partner Carol Stream Park District Executive Director Jim Reuter.
To further along fundraising efforts, Mayor Saverino is holding an Open House Fundraiser on Thursday, August 24, from 4 to 8 pm at the Carol Stream Holiday Inn. Everyone is invited to stop by and make a donation and enjoy light appetizers, cash bar, fun raffles and music.
Other upcoming fundraising events, coordinated by the Park District and the Memorial Park Task Force, include Joe Cotton Ford's Drive 4UR Community on August 5 at McCaslin Park, a concert featuring Prairie Station on August 19 at the Town Center, the Fall 5K Stars & Stripes Shuffle on October 1, starting at Armstrong Park and the Stars & Stripes Softball adult tournament on October 7, also at Armstrong Park.
The Memorial Park Task Force includes members from the Carol Stream VFW, American Legion, Village, Park District, Chamber of Commerce, and volunteers.
To make a charitable contribution to the enhancements and beautification of Veterans Memorial, send your tax deductible donation to the Carol Stream Parks Foundation, a 501(c)3 charitable organization.
Carol Stream Parks Foundation
c/o 849 W. Lies Road, Carol Stream, IL 60188
info@csparksfoundation.org
You may also make an online donation at GO FUND ME.