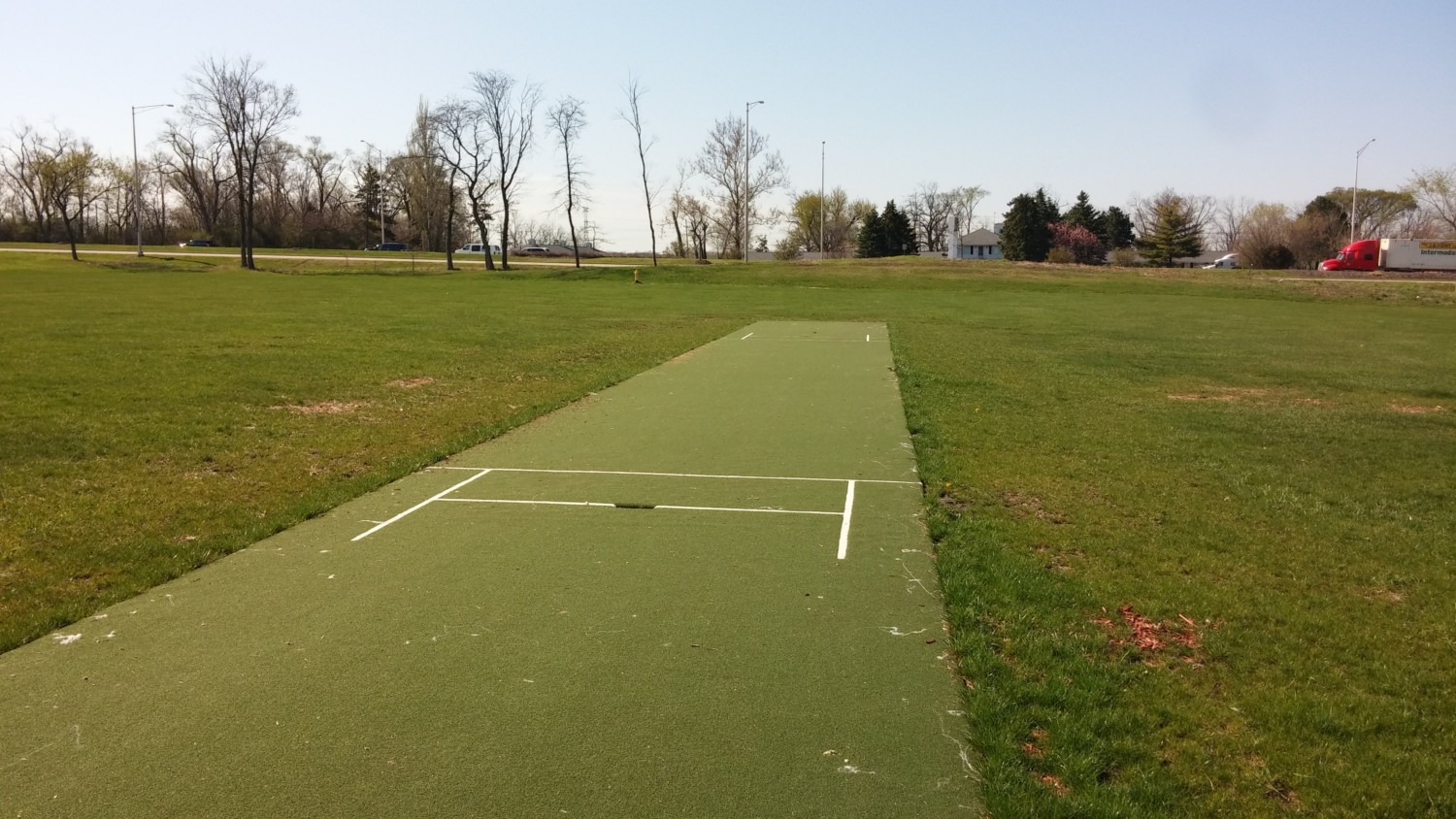 Cricket Field at McCaslin Park
Posted on February 3, 2023
If you do not play the very traditional game of cricket, you may not know that the Carol Stream Park District's McCaslin Park is home to a cricket field. The field is located just northeast of Coyote Crossing Mini Golf. The American Cricket Conference of players are often seen playing for hours on the field.
Just what is the game of cricket? It's a bat-and-ball game played between two teams of eleven players on a field at the center of which is a 22-yard pitch with a wicket at each end, each comprising of two bails balanced on three stumps. One team takes a turn to bat a ball and score, while the other team will bowl and field the ball to restrict the other team from scoring. The main objective in cricket is to score as many runs as possible against the opponent. It is similar to baseball except it has different rules, terms and organization. (Credit: Google)
The park district typically aerates and overseeds the field annually and treats it with various weed control measures during the growing season. The park site currently has a clear dropoff in the field of about 18 inches, meaning from east to west there is an 18-inch change in the grade which isn't conducive for competitive and safe game play. We plan to level the entire cricket field in April to make it a better overall player experience for the cricket leagues.
How are we doing this? Remember the renovation of the Bierman Park/Heritage Lakes trail early last fall? By the way it's a beautiful trail now! Well the dirt we removed from the renovation of the trail was stockpiled at the southwest end of McCaslin Park, adjacent to the cricket field. If you drive down North Avenue often, you may recall seeing these dirt mounds. With the help of a contractor and in-house labor, the cricket field will be graded with this "recycled" dirt. Our parks staff will fine grade, removing rocks, and then seed the area.
We plan to start as soon as the weather breaks, anticipating mid April. The work will take a couple of weeks to complete, and then we can sit back and watch the grass grow. The cricket season begins in May. If you are interested in the game of cricket, contact Sohail Bari, President at the American Cricket Conference. Here's is Facebook link: https://www.facebook.com/groups/231860493599819