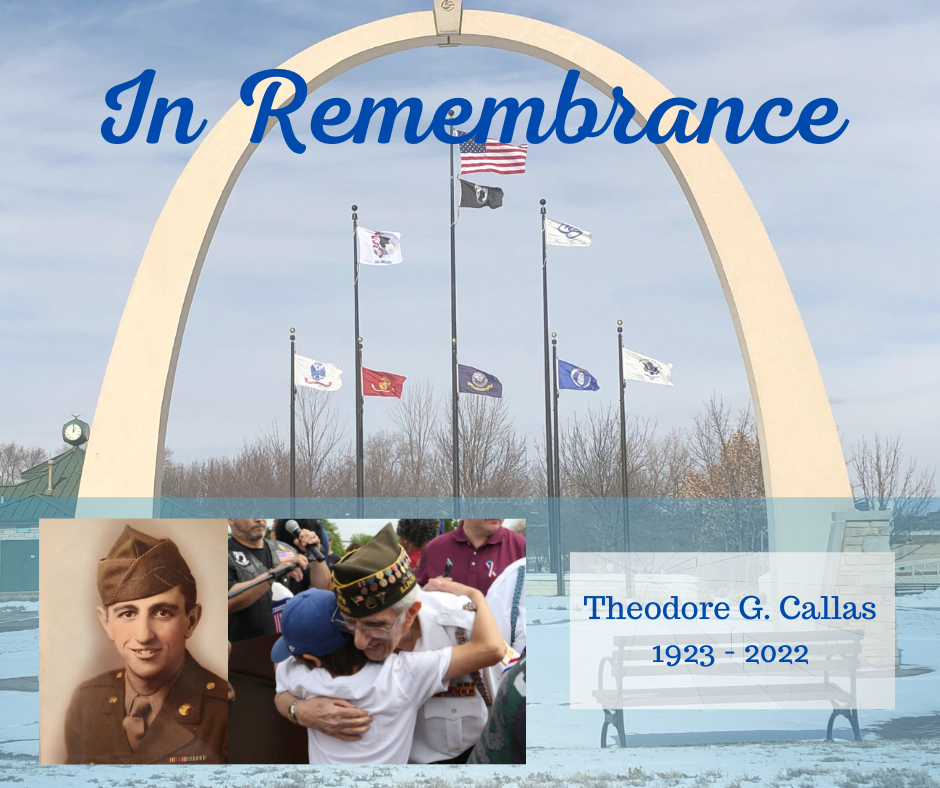 Farewell to Our Friend Ted Callas
Posted on January 21, 2022
In remembrance of Theodore G. Callas, WWII Veteran.
Ted was an active member of Carol Stream's VFW Post #10396 and integral part of the fundraising community that brought the Veterans Memorial Plaza at Town Center to fruition. The District is proud to have had Ted present for the building and unveiling of the Plaza. We were honored to have him raise the American Flag at the dedication.
Serving in the Army from 1943 to 1946, Ted was a medic/surgical technician with the 71st Evacuation Hospital that was attached to the 158th RCT (Regimental Combat Team), Bushmasters. The RCT was stationed in the Pacific Theater-Philippine Islands and Japan. A 1991 interview with Press Publications describes his time there. (See link below)
Ted was born in May 1923. He graduated Steinmetz High School (Chicago) in 1942 and was drafted to war. Back home, he married (the late) Ethel (nee Vrame) in 1947, and they were married for 63 years. Ted also served as the Steinmetz Alumni Governor in 1968. Ted leaves his legacy to his three children, seven grandchildren and one great grandchild, in addition to so many friends that loved him. He would have been 99 years this May.
It is our honor to share some memories of Ted. Look for his Memorial Brick in the Army section of the Veterans Memorial Plaza.
Read Ted's 1991 Interview with Press Publications
(Note: this is an aged newspaper clipping, so quality of type is faded.)