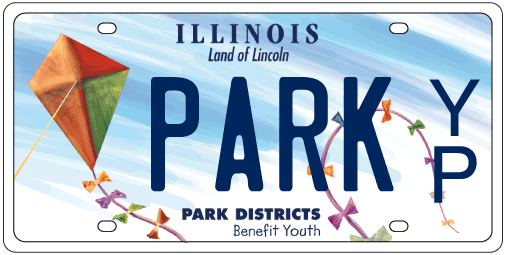 Get Licensed to Support Illinois Youth!
Posted on January 27, 2022
Park District Youth License Plate Promotion
The sale and subsequent renewals of each plate generate $25 for the PowerPlay! Beyond School Grant Program, which funds youth programs in park and recreation agencies throughout Illinois. The goal of the PowerPlay! program is to increase the number of opportunities designed to show youth the lifelong benefits of fitness, health and nutrition.
Click here to download the Park District Youth License Plate form. For more information contact IAPD at 217-523-4554 or iapd@ILparks.org.
---
Find Out if the Vanity and/or Personalized License Plate You Want is Available—Immediately!
Go to the Secretary of State's Web site at http://www.cyberdriveillinois.com/ to find out if the personalized and/or vanity plate you want is available.
Click on "Pick a Plate" in the middle of the screen.
Choose the appropriate vehicle along the left side of the screen.
Then choose "specialty."
Then choose "Park District Youth."
Then click on the logo that is appropriate–if you want a personalized plate click on "FLY 1". If you want a vanity plate click on "PARK."
Type in your desired vanity or personalized plate message.
Then click "submit" and instantly find out if that plate is available. (At this point, you are under no obligation to purchase this plate.)
If the plate is available, and you would like to purchase the plate immediately, click "purchase" and follow the instructions.
If you have any questions regarding the Park District Youth License Plate, please call IAPD's office at 217-523-4554.