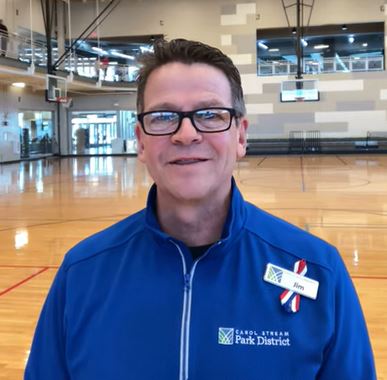 Happy New Year and Welcome back!
Posted on January 22, 2021
Hello, I'm Jim Reuter, Executive Director of the Carol Stream Park District.
I wanted to check in with you all and wish you a Happy New Year.
As you may have heard, the State has begun to lift some of the COVID mitigations that have been in place since mid-November. This is a good sign that things are moving in the right direction and I wanted to remind you that we are here. We have lots of exciting things in the works. This is a great time of year to take advantage of the programs and services we currently have available.
Are you a member of Fountain View Fitness? If not, stop on by and check it out – take a fitness class, lift some weights, take a walk on the walking track – all in a safe and clean environment. And if you would prefer to work out at home, we are continuing to offer virtual fitness classes so there is something for everyone!
In-person dance and gymnastics classes begin next week.
Our Preschool program has started back up with in-person classes starting this week.
In-house sports programs and leagues are starting January 29.
And rentals and parties can be scheduled, within the Tier 2 guidelines.
To find out more about any of these programs, please go to our website or check out the Digital Guide.  Thank you for your patience during these past several months.  We look forward to seeing you all soon!