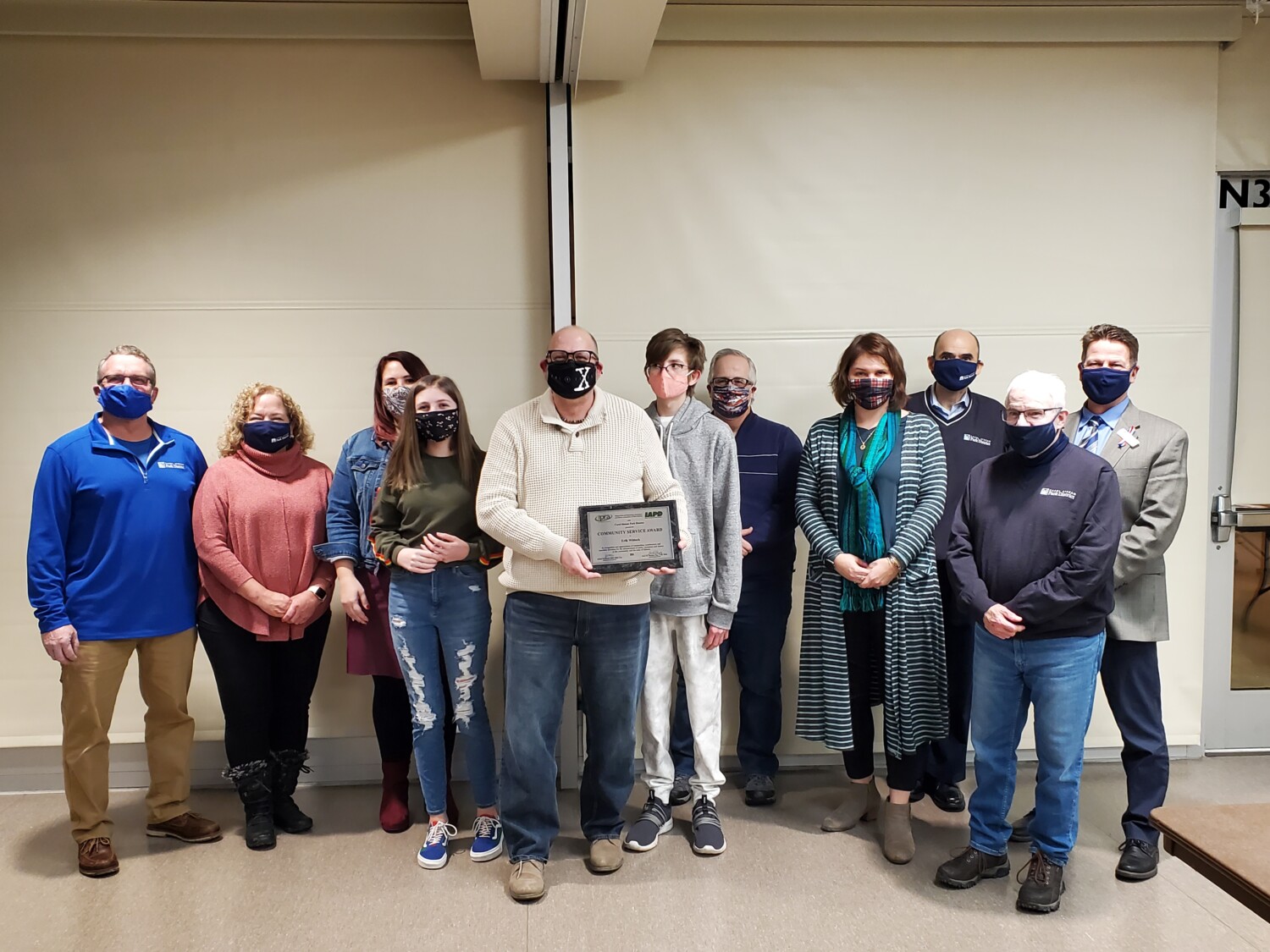 IAPD/IPRA Community Service Award goes to Erik Witteck
Posted on February 10, 2021
The Illinois Association of Park Districts and Illinois Parks & Recreation Association recognized our community member and volunteer, Erik Witteck, with a Community Service Award. The award was presented by Executive Director Jim Reuter at the Carol Stream Park District's Board of Commissioners' meeting on Monday evening, February 8, 2021. We congratulate Erik on receiving the award and thank him for his service to the Carol Stream Park District.
Erik has been a volunteer basketball coach since 2011, and remains a coach even though his son aged out of the program. He coached dodgeball for two years, helped out at swim meets, and has worked behind the scenes for our theatre program.
Erik plays a wonderful Santa! He was our 4th of July Parade Santa and the Christmas in July Santa (both 2019). Erik worked as a volunteer for many park district events: BooFest!, Bunny Bash, Egg-tober, Father's Day Fishing Derby, Flashlight Egg Hunt, Haunted Mini Golf, Holiday Trolley and Mom Son Prom. Erik enjoys the Teenie Weenie events and has volunteered for the Teenie Weenie Drive-in Movie, New Year's Eve Ball and Pumpkins & Munchkins for a couple years.
Much of his volunteerism not only includes his time working at the events, but he assists with setup, decorating, takedown, cleaning, and running errands. He's made runs for everything from batteries to bales of hay.
We speak in the past tense of what Erik has done, but he's not done. He plans to continue to serve as a volunteer for the park district and within the Carol Stream community because he enjoys doing so.
Erik's family also benefits from his can-do and energetic attitude. His wife Sara says, ""He also helps out the kids' schools when they need volunteers. He has attended every single one of the kids' basketball and dodgeball games, cheerleading (games and tournaments), cookie sales, pinewood derby's, pancake breakfasts, plays, swim meets, wrestling matches, daddy daughter dances, community events and campouts. Plus he is the primary driver for the kids, for all their activities and games!"
Congratulations Erik Witteck!
The Witteck family
(from left to right: Lorelai, Ethan, Erik and Sara):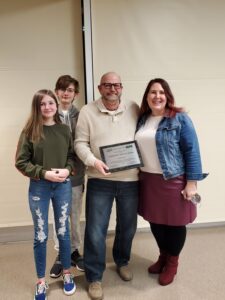 Jim Reuter presenting the award: