Mitchell Lakes Path Reconstruction begins early September
Posted on August 20, 2021
We will begin reconstruction on the Mitchell Lakes path in early September. A complete tear out, regrading, widening, and repaving is planned. The 0.95-mile path is widening to eight feet. Excessive slopes on the path will be eliminated to allow an individual with a mobility issue to easily move along the entire path.
The project will take approximately three weeks to complete. That includes removing the old path, framing a new base for the asphalt, and pouring the asphalt. Once this is done, there will be one week of restoring topsoil, seeding and blanketing the edges of the path.
The path will be done in two halves so that walkers will still have one half of the loop to walk on at all times.
There will be construction equipment and earth-moving equipment operating along the path while work is being done. We understand the path runs right behind many homes and will do our best to minimize interruption; however, we do ask for your patience and understanding.
The Carol Stream Park District is the recipient of a grant award from the Illinois Department of Natural Resources in the amount of $180,000 to renovate the Mitchell Lakes asphalt path. The grant covers 50% of the cost.
Current path to be reconstructed.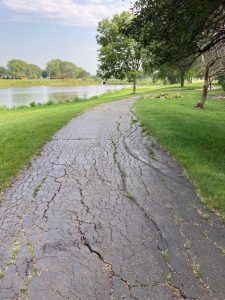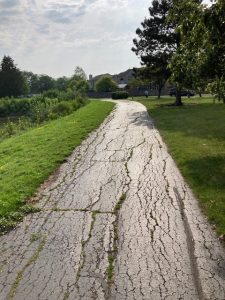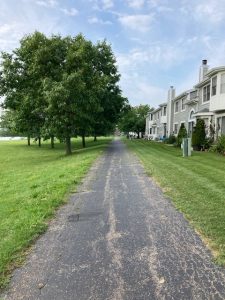 The Mitchell Lake Park path is joined by the Armstrong and Veterans Park paths. The Veterans Park path is joined by the Lies Road trail, which takes a cyclist east to the new Gary Avenue trail and then south to the Great Western Trail. A cyclist can also go west down the Lies Road trail to the Kuhn Road trail, south to the Great Western Trail.