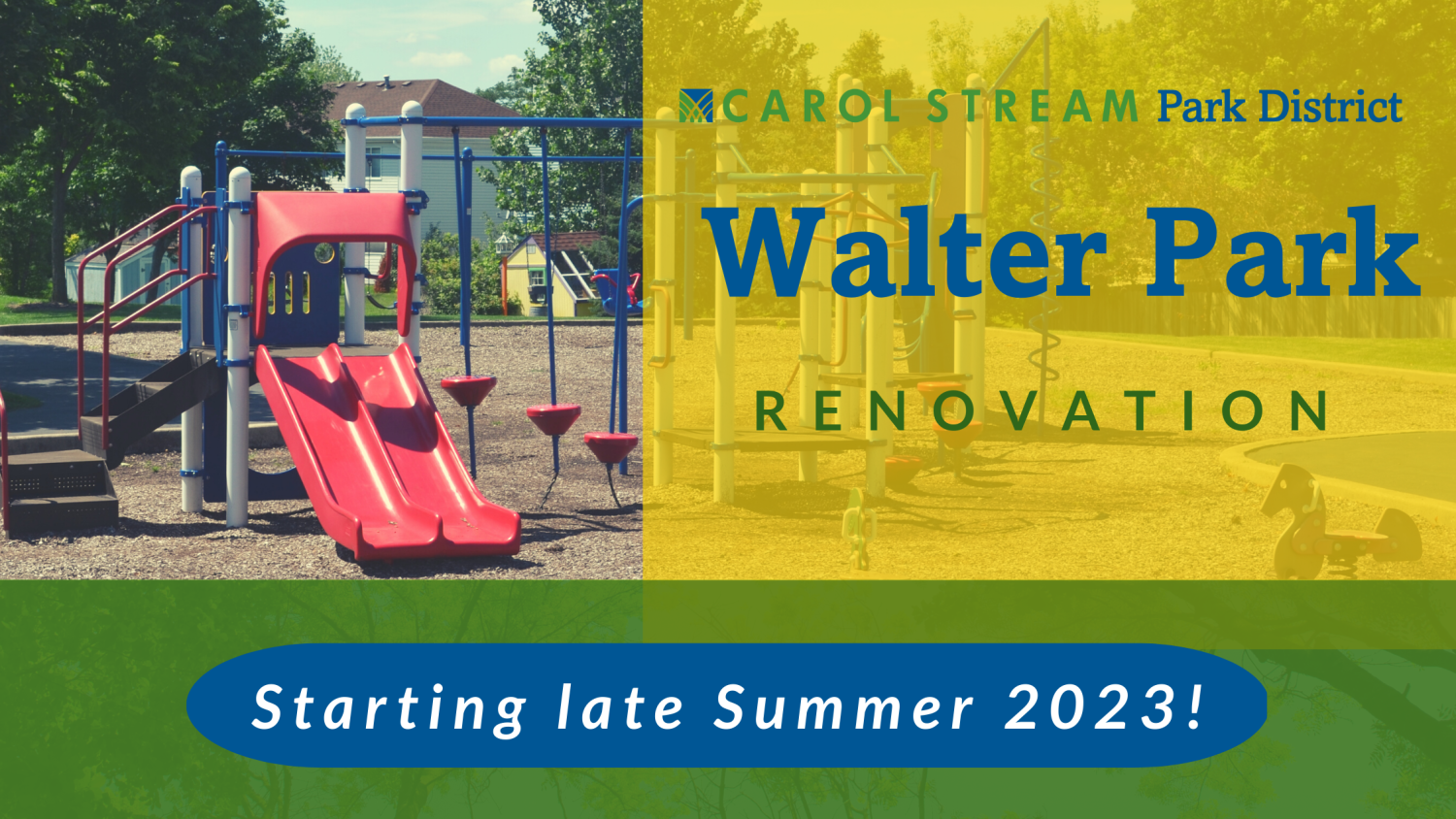 OSLAD Grant for Walter Park
Posted on March 2, 2023
Click "Message from Jim Reuter" above to view video message about Walter Park.
We have some very exciting news! The Carol Stream Park District is a recipient of an Open Space Lands Acquisition and Development (OSLAD) grant in the amount of $400,000 for the Walter Park renovation. The amount funds 50% of the renovations planned for the park, which will take place over two years, beginning in late summer of this year.
"Walter Park is an important asset to the neighborhood and is in need of improvements, and our Board and Staff are extremely pleased to have received this grant," says Jim Reuter, Executive Director of the Carol Stream Park District.  "We look forward to this park project, which affects numerous homes in the neighborhood; and the park is just off the Lies Road Trail, making it accessible to all residents."
Gerald L. Walter Sr, the park's namesake, was one of the first Park Board Commissioners. His tenure was from 1964 to 1973. Mr. Walter, who no longer lived in Carol Stream, passed away last month.
Back in May 2022, all Carol Stream residents and especially neighbors of Walter Park, located at 970 High Ridge Pass, were invited to a couple of Community Input Meetings. With Walter Park due for renovation, the Park District wanted resident feedback about what people would like to see at the park. At that time, architects and staff guided participants through some exercises to list the amenities they would like to see at the park, and then they were asked to prioritize or rate them. The kids were involved too!
Some of the suggested amenities include a baseball field with dugouts and bleachers, soccer field, playground with synthetic turf, outdoor pickleball court, bike rack, a quarter mile asphalt path, portable restroom and new parking lot.
Once the plans were being refined for Walter Park as a result of the community input meetings, the Carol Stream Park District Board of Commissioners approved a Resolution authorizing the application of an OSLAD Grant for improvements to Walter Park.
Supplementing park improvements through grant funding opportunities allows the District to update more parks, increase amenities, and enhance recreational opportunities for more residents.
Obtaining a government grant can be a difficult task. The application process is lengthy and extremely detailed. With the help of our Walter Park design architects, we wrote a convincing proposal and are very proud to have received this OSLAD grant.
Here is a clip of the press release from the Governor announcing the winners of this prestigious grant:
From Illinois State press release: Governor JB Pritzker along with state and local leaders and the Illinois Department of Natural Resources (DNR) today announced nearly $60 million in state grants are being awarded for 118 local park projects throughout Illinois to help communities acquire land and develop recreational opportunities. The grants represent the largest round of Open Space Land Acquisition and Development (OSLAD) grants in the 36-year history of the program, which was designed to help communities fund land acquisition and development for parks and outdoor recreation projects.
Read the release and the list of all park district recipients:  https://www.illinois.gov/news/press-release.26122.html