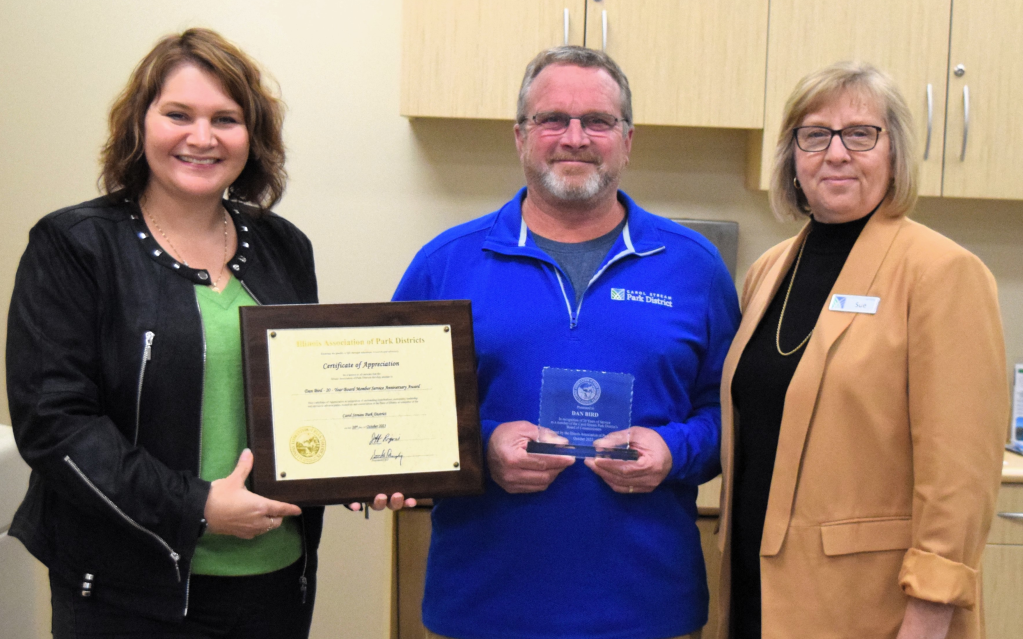 Thank you Commissioner Dan Bird for 20 Years of Service with the Carol Stream Park District!
Posted on November 14, 2023
The Carol Stream Park District would like to extend its sincere appreciation to Dan Bird for his remarkable 20 years of service as a Park Board Commissioner.
Dan's passion for enhancing our community has left quite a mark on the Carol Stream Park District. Throughout his tenure, Dan has been part of many projects such as the building of Fountain View Recreation Center, McCaslin Park Sports Complex, working with the County on the storm water project at Armstrong Park, the pouring of concrete for the Carol Stream Parks Foundation's Bike Fix It stations, fundraiser participant and advocate for the Veterans Memorial Plaza at Town Center – just to name a few.
Dan's leadership, support and guidance has helped shape the district into a thriving and inclusive space for all residents and guests. On behalf of the entire community and the Carol Stream Park District, we want to express our gratitude for Dan's outstanding service.
Pictured left to right are Board President Jacqueline Jeffery, Commissioner Dan Bird, and Park District Executive Director Sue Rini. Dan received a Certificate of Appreciation and memento from the Illinois Association of Park Districts that recognized Dan for his years of service and educational advancement as part of the Commissioners' Development Program.