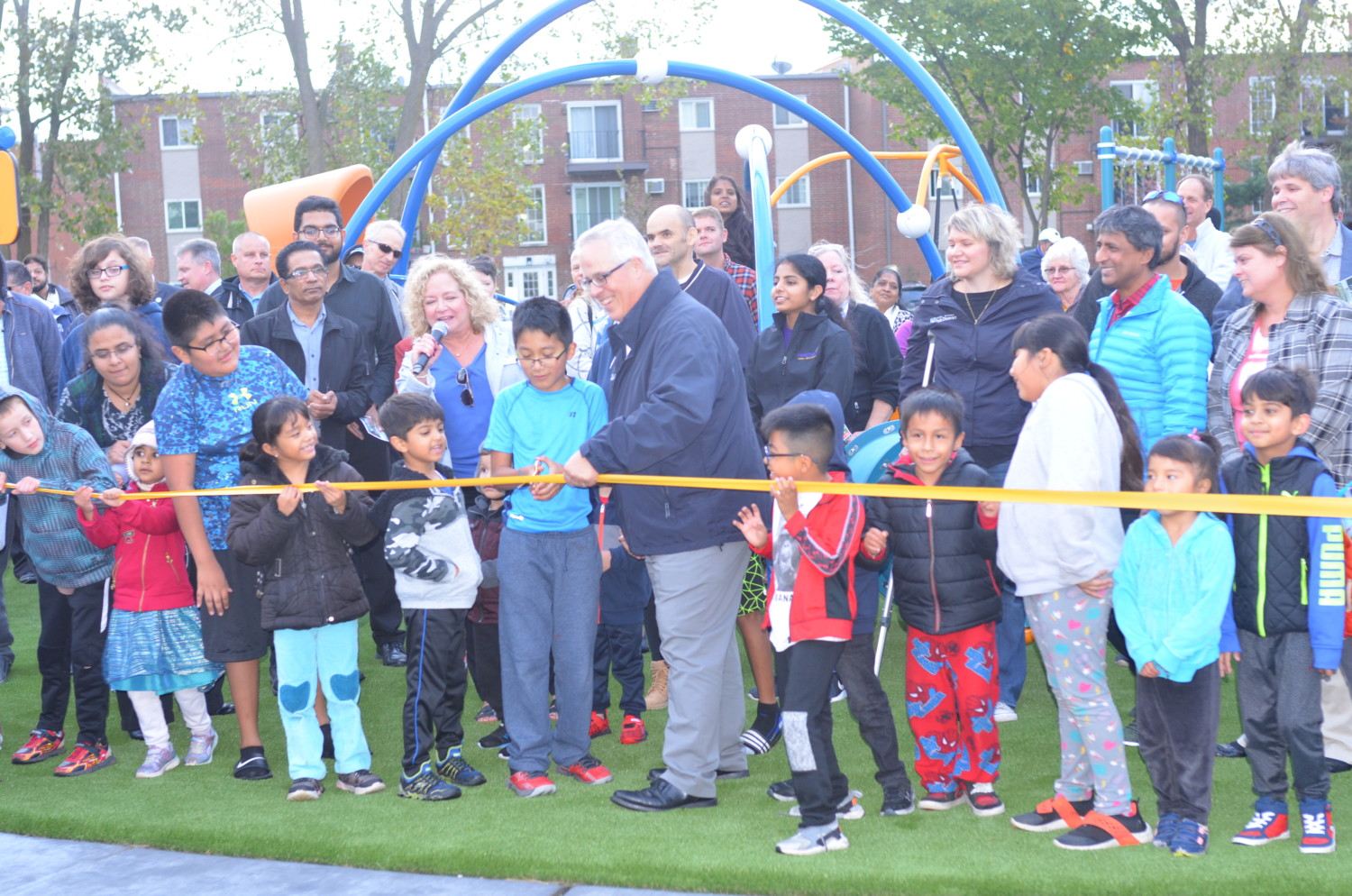 The Story of Carolshire Park
Posted on November 6, 2019
Building a Community: The Story of Carolshire Park
The construction fence was just removed. The kids were looking out their windows and getting excited! It was October 15, 2019. The weather was uncertain a couple of hours earlier with some rain drizzle, wind and overcast skies. However, nothing could stop the evening's celebration of the opening of Carolshire Park . . . A grand success!
Many children and their families were welcomed by Park District commissioners and staff, the Village Mayor, Village staff and trustees; local dignitaries, community partners, and representatives of the properties around the park. Speeches were made. People and parents listened, standing on the soft synthetic turf surface of the landscaped playground while the kids were busy testing features of the park – the Twist, the Weevos, swings, slides and more!
Then all the kids were called up for the ribbon cutting by Park Board President Brenda Gramann. Park District Commissioner Brian Sokolowski gave the scissors to a young man who cut the ribbon, officially opening Carolshire Park.
We are Carol Stream! We are a town of visionary and passionate leaders and citizens. When we see a challenge that could become an opportunity for our residents, especially our children, we are relentless in our pursuits. This is the story of a suburban pocket park, Carolshire Park, a 0.83 acre plot of land located at the Carolshire Commons condominium complex, adjacent to Klein Creek condominiums in Carol Stream.
History
Built in 1977, Carolshire Commons Condominium Association was in shambles in 2010. With disrepair and an impending $3 million fine for code violations, there was a resounding call for change. A couple dozen dedicated condo owners stepped up in 2016, obtained some industry professionals and the support of the Village of Carol Stream, and Carolshire has since undergone a remarkable transformation in just three years.
Much work had to be done. Roofs were failing. Condo canopies (or decks) were removed because one had crashed to the ground in the very early morning hours. Removing the canopies exposed unsightly cinder block construction. Saying the parking lot was laden with potholes was an understatement – the parking lot was laden with craters. Abandoned cars littered the crumbling lot. Inside the buildings there was damaged drywall, inoperable light fixtures and peeling paint.
The condo association was $300,000 in debt, had very little money in the bank, and faced over 600 code violations. A court-ordered Consent Decree mandated that the association correct the violations or pay a $3 million fine. This also incurred $70,000 in legal fees that the association was required to pay. Units in the complex, if they were able to be sold, were valued as low as $20,000 to $25,000 in 2010. Some owners didn't pay assessments for many years, owing the condo association $700,000.
Aside from the association being in ruins, the Carol Stream Police Department reported a moderate rate of theft, simple assault and criminal damage.
The Carolshire association is comprised of 18 three-story buildings with a total of 216 units. The community is host not only to condo owners but many renters. A variety of languages are spoken in the community. In a demographics study done in September of 2017, the Carolshire area is comprised of many Hispanic, Asian Indian and African American families. According to the Village's social services department in 2017, there is a large concentration of preschool and elementary school age children of families who work multiple jobs, possibly with older children watching over the younger children.
Meanwhile, the kids were playing in the parking lot, outside retention areas, or hallways of the buildings because there was nowhere else to go. With the nearest park being about a 10-15 minute walk away, what are young children to do if they don't have an adult to drive or walk them over to the park to play?
The Transformation
In a special Open Meeting attended by more than 100 Carolshire homeowners, the Carol Stream Mayor and Village officials, the existing Board members of Carolshire were removed and five new Board members were installed. The meeting was civil and supportive of the homeowners and condo association, but the new Board inherited a mess.
The first challenge was to acquire financial records, bank accounts, contracts and policies, most of which were in disarray or nonexistent. Delinquent accounts were turned over for collection, and the Carolshire condo association was able to take possession of about a dozen units to rent. The Carolshire Board members worked tirelessly to collect all rents and get the money into the association's account, so owners would not lose their investments.
Working with professionals from ACM Community Management, bids were sought for the repairs and remediation projects required by the Consent Decree. Lenders were sought, and after several turned down the association, Itasca Bank and Trust saw beyond their past weaknesses and believed in their new business plan. In addition, the association was able to accumulate $200,000 in cash reserves within six months. After a comprehensive review of records, confidence in the reputation of the management company, knowledge of the Village's support, and Carolshire's location in Itasca's Community Reinvestment Act, the bank advanced Carolshire $1.25 million in the form of a one-year line of credit that converted to a 10-year term loan.
The Carolshire team started to tackle a massive to-do list. Over a two-year period, the 665 code violations were corrected. Aesthetic improvements were made as well. The costliest project the association faced was the replacement of the parking lot at $900,000. However, recycling the existing stone and asphalt reduced the project cost by $250,000. The lot was done in three phases because of weather delays and storm water pipe replacement.
After the parking lot was finished, the Carolshire association issued resident parking permits and implemented a towing policy, eliminating abandoned vehicles and those belonging to nonresidents. This also reduced crime in the area.
Since March of 2016, when the Consent Decree was handed down, Carolshire's accomplishments have been impressive:
97 percent of owners are paying their assessments on time;
No special assessment was levied;
The association's loan is being repaid from regular assessment income;
Assessment amounts have been decreased 17 percent since 2016;
Home values have escalated to between $70,000 and $95,000;
Owner occupancy is slowly increasing;
Monthly rental rates have risen 20 percent to 30 percent;
The association has over $500,000 in its bank accounts;
Police calls for service and major crimes decreased by 50 percent.
In January of 2019, the Village returned to the Courts and dismissed the Consent Decree and potential $3 million fine. In addition the Village issued a Proclamation that read in part, "The Carolshire Commons Condominium Association Board is hereby recognized for its efforts in developing a positive relationship with the Village, for improving the quality of life for its residents, and for becoming a good neighbor and an asset to the Village of Carol Stream."
The Village also transferred a small parcel of open space adjacent land to the Park District.
Planning for a Park
While the Carolshire association was working to overcome its many obstacles, the Carol Stream Park District saw an opportunity to bring activities to the area, at the time a low-to-moderate income area located along the Gary Avenue Corridor, a busy arterial street in Carol Stream, where cars travel at 45 miles per hour.
Prior to the park's opening, the Park District used the open space as a base camp for a summer program called "After Hours", created to engage the youth of Carolshire and surrounding complexes to play some sports, games and interact with Park District staff.
Given the popularity of the program, the Park District soon envisioned a "pocket park" accessible to the nearby condo communities. In 2015 the Park District held a public meeting for residents. Bilingual flyers and door-to-door communication encouraged families to come out. The Park District presented imagery of possible activities and playground structures. A concept plan for Carolshire Park was derived from the residents' feedback.
The Park District applied for a Community Development Block Grant through DuPage County to obtain funding to develop the park. In the fall of 2017, an award of $200,000 was granted. The Park District matched funds. Groundbreaking took place in May of 2019, and the official opening of the Carolshire Park was held on October 15, 2019.
"The opening of Carolshire Park is the icing on the cake following the successful conclusion of the property maintenance initiative that saw Carolshire Commons Condominiums evolve from one of Carol Stream's most challenged neighborhoods into one of the best managed multi-family complexes in the Village," says Don Bastian, Community Development Director, Village of Carol Stream.
The Carolshire Park playground is a creative play area for ages 2-12 years old. The surface is a soft synthetic turf. It features "The Twist", an arched ladder apparatus that changes angles in different directions, and "The Weevos", a structure designed to meet the physical, cognitive and social needs of young children, sparking their imaginations as they explore. A swing set has two belt swings, one bucket swing and a molded ADA swing. The playground sports a transportation theme, with a trike track, street signs and two "make believe" gas and electric stations, where kids can fuel up or charge up their trikes.
Carolshire Park has open green space for activities and sports, a grill, and plenty of seating for picnicking or watching kids at play. Three LED light posts keep the park lit in the evening, and a small shelter contains electricity and solar lighting. Asphalt walking paths have accessible connections to parking lots and to the future Gary Avenue bike path. An ornamental fence prevents balls and kids from running out onto Gary Avenue.
"It is clear that the park meets a real need for safe playground space for the numerous families and young people who live nearby," says Bastian. "Perhaps more importantly, it provides a space that they can be proud of in their own backyards, and should give them a sense of belonging and the knowledge that their community is actively working to improve their quality of life."
Many Carol Stream leaders spoke to the crowd of neighbors the evening of October 15. Carolshire association Board member and advocate of the park, Sunil Jain, announced at the grand opening, "The wait is over and neighbors can enjoy this beautiful park. The park is attracting many buyers to purchase property in the neighborhood. Carolshire residents are super excited. Carolshire Park will not only provide a playground for kids but also an opportunity for adults and neighbors to come together and build a stronger community."
Carol Stream Park Board President Brenda Gramann summed it all up: "The parks in Carol Stream are about the kids, the families and the neighbors. They're a big part of what makes Carol Stream such a great place to live. We're grateful to be able to bring a park to this deserving and underserved area. While the name is Carolshire Park today, make no mistake, this park is for everyone in the community – especially the kids!"
When the opening was winding down, Jim Reuter, Executive Director of the Carol Stream Park District stood back and reflected on his thoughts. "This is why we do what we do. Building a park in this area transforms the community through increased property values, quality of life and allows children and adults just the same, from two different condo associations, to come together and PLAY together. What is better than bringing the community together?"
Debbie Trueblood, Executive Director of the Illinois Park and Recreation Association, attended the opening. "I see parks, playgrounds, and facilities all over the state, but I have yet to see one anywhere that has brought together a community like this one has. Already children from these neighborhoods are coming together and through their parents, they are creating a new community with a well-earned sense of pride. Parks are never just about land, slides, swings or walking trails. They are about community, families, health and wellness. We strive for parks to create social equity. The Carol Stream Park District has succeeded in all these areas and that is no easy task."
As the Carolshire Commons condominium association continues on its successful journey, Carolshire Park stands as the pinnacle of the accomplishments achieved by a larger community working together to make a neighborhood strong and to take care of its children.
We are Carol Stream!
View the Carol Stream Park District's PARK PAGE for Carolshire Park to see photos.

Resources
Bastian, Don – Community Development Director, Village of Carol Stream. Quoted from email sent October 31, 2019 to Jim Reuter, Executive Director, Carol Stream Park District.
Dittmer McKuen, Pamela. Condo Lifestyles, "The Transformation of Carolshire Commons," July 2019, Volume 14, Number 2.
Firm of GreenbergFarrow (landscape, architecture), "Carolshire Park Development: Master Plan and Community Development Block Grant", October 4, 2017.
Gramann, Brenda – Board President, Carol Stream Park District Board of Commissioners. Quoted from email sent November 5, 2019 to Carolyn Mondlock, Marketing Manager.
Jain, Sunil – Carolshire Commons Condominium Association. Quoted from email sent
October 16, 2019 to Jim Reuter, Executive Director, Carol Stream Park District.
Mondlock, Carolyn. "Park District to hold Grand Opening of Carolshire Park October 15, 2019, 5:30 pm". Press release sent to media September 30, 2019.
Reuter, Jim – Executive Director, Carol Stream Park District. Quote provided October 24, 2019.
Trueblood, Debbie – Executive Director, Illinois Park and Recreation Association. Quoted from email sent October 30, 2019 to Jim Reuter, Executive Director, Carol Stream Park District.
This story is authored by Carolyn Mondlock, Marketing Manager, Carol Stream Park District. November 6, 2019.