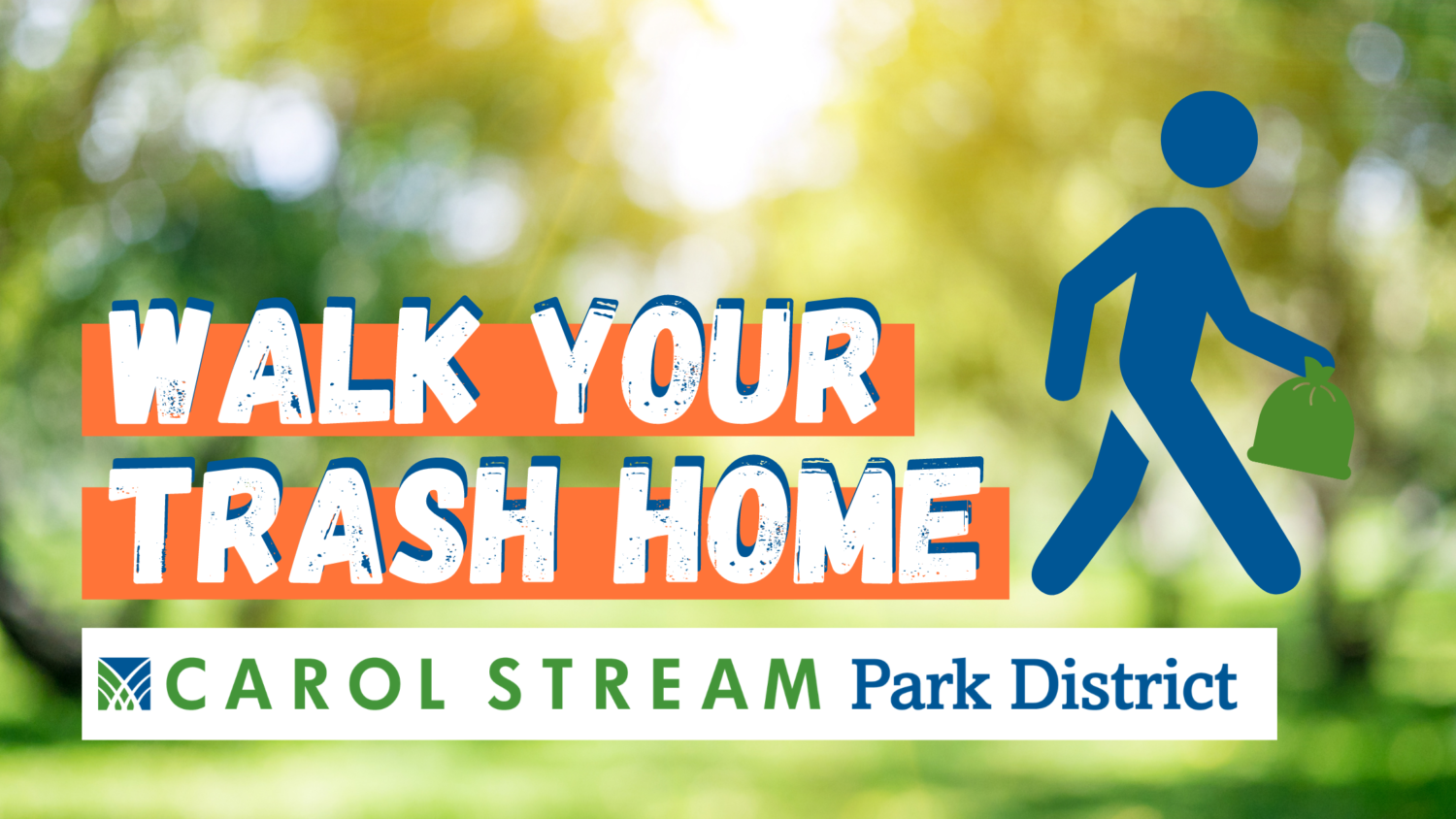 Trash in, Trash out – Walk your Trash Home!
Posted on April 16, 2021
The Carol Stream Park District is trying an anti-litter experiment in our parks by removing some trash cans. One will think this experiment is counterproductive to preventing litter in our parks. The fact of the matter is, taking your trash home is the result of an environmentally sensitive mindset. Sounds simple, but how do you change the mindset of residents who are used to having trash cans in our parks?
The challenge will be in getting the word out to our residents and asking them to give this idea a try! We expect to hear, "you've tried that before and it didn't work," or "our tax dollars pay for this." Tax dollars do pay for many things at the park district, and we constantly look for the best way to manage the trust our residents have placed in us to use those tax dollars wisely. Nearly 50-60% of the services we provide are not covered by tax dollars, so 40-50% of the park district services are funded by the revenue generated through our programs. We watch every penny spent and are transparent in our financial reporting as recognized by the Government Finance Officers Association Award for Excellence in Financial Reporting for the 20th consecutive year.
The WALK YOUR TRASH HOME Program is another example of the park district's effort to do more with less. COVID drastically cut into the earned revenue side of the park district's business and resulted in staff being cut by more than 25 percent leaving fewer staff to maintain our 456 acres of open space, 46 parks and playgrounds, and empty trash cans.  Removing trash cans from various locations gains us 40 hours a week of staff time to use towards open space, sport fields, park and playground upkeep.
You are right; we tried this experiment a few years ago and it didn't work. Residents left their dog waste and trash where cans "used to be."  There are many people who don't bother to use the trash cans – even when they are available. But we're going to try this again with the addition of educating our residents on 'why' we are doing so.
Over the years, national and state parks have experimented with the removal of trash cans, especially in areas that are hard to get to with a maintenance vehicle. For example, national parks in Southwestern Pennsylvania are "Trash Free Parks". Their Leave No Trace program advocates for visitors to the parks to share the responsibility for managing solid waste. Further, their notices at the entrances to the parks say, "Trash cans have been removed from the park to protect and improve the environment. This program is designed to encourage reuse and recycling practices. We all share the responsibility for managing solid waste and the park's environment." Because of environmentally sensitive visitors, the land remains pristine.
The Chicago Park District removed a number of trash cans from five of its largest parks in 2001. The concept was simple:  According to the parks superintendent at that time, "a lack of garbage cans will encourage people to "bag up" their garbage and "take it home." The Chicago Park District found out that less trash was being thrown out, and parks were cleaner.
Walking your trash home is an environmentally conscious mindset; it also represents respect of our community and fellow residents. A litterbug will continue to litter, trash can or not. And the Carol Stream Park District will still pick up trash at parks. But human trash belongs to the human who produced it; so why not take it home? Leaving dog waste bags where a can "used to be", or any waste for that matter, pollutes your community and neighborhood; it's disrespectful to your neighbors.
The Carol Stream Park District is asking that our residents to be a good neighbor, to be environmentally conscious and help us in this new way to keep our parks clean. When having a picnic in one of the parks, bring extra bags for your garbage and take it home. Take your dog waste home. Better yet, help us by picking up trash when you see it. Take a walk through a park and do your part. If every resident does his/her best to keep our parks and neighborhoods clean, we become a better community. Help us to teach each other and future generations to be responsible members of our community.
We hope you join us in supporting the WALK YOUR TRASH HOME campaign and be responsible and environmentally sensitive to the Carol Stream Community.