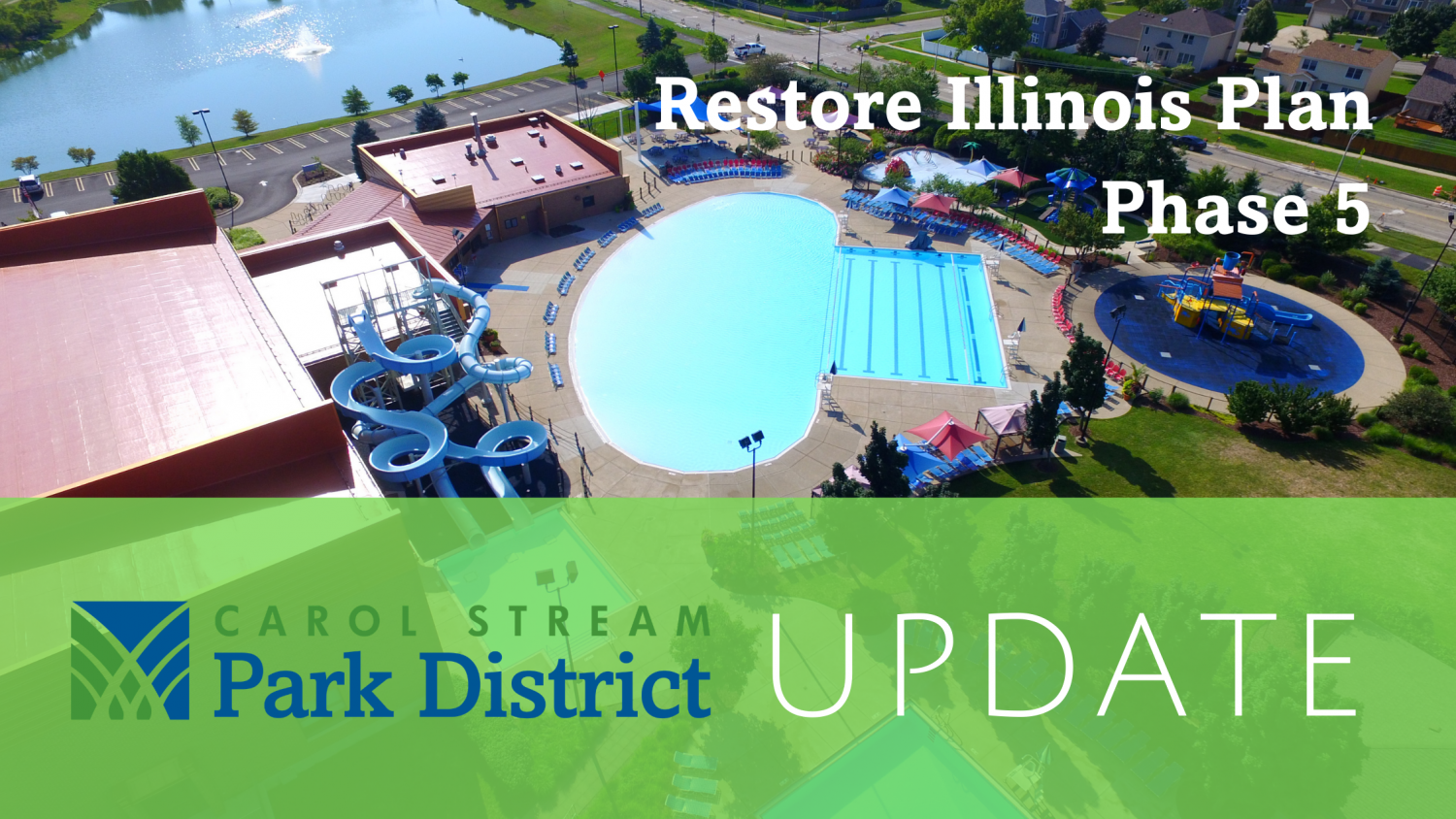 UPDATE! Now entering Restore IL Phase 5
Posted on June 11, 2021
UPDATE 6/11/21: The State of Illinois Moves to Phase 5 of the Restore Illinois Plan.
Safety continues to be our top priority. Face coverings are still required for anyone who is not fully vaccinated and for all children ages 2-11. By entering park district facilities without a face covering, you truthfully attest to being fully vaccinated.
Coral Cove Water Park – The outdoor water park is open and we're returning to full capacity! Season passes are available, and daily passes can be purchased onsite. Reservations are no longer necessary and we're open for full hours without a mid-day closure. While face coverings are required for unvaccinated visitors, including all children ages 2-11, they are not required while in the water or on deck, if maintaining 6 feet from nonhousehold members. Concessions is open and the menu is expanding! Visit the water park webpage for more details.
Fountain View Fitness & Indoor Track – All-inclusive and walking track memberships are available online and in-person. Members can drop in for Group Fitness classes; view our schedule here.
Indoor Pool – Reservations are required for lap swim. There is a limit of two swimmers per lane. Please note, there is limited availability this summer due to swim team and swim lessons resuming.
Open Gym – Open gym basketball is available for Fountain View Fitness members only.
Coyote Crossing Mini Golf – $5 rounds! Theme nights scheduled throughout the summer. Face coverings not required on the course due to social distancing. View hours and more info here.
Dance, Gymnastics, Theatre – Curbside drop-off/pick-up, face coverings, and social distancing are required. For parent-child classes, only one adult is permitted. Registration is still open for many summer classes!
Awesome Adventure Camp – Awesome Adventure Camp registration is open, although several weeks are already at capacity. Social-distancing and face coverings are still required. Campers spend a majority of the day active and outside. Outdoor drop-off and pick-up is in effect.
Summer Preschool – Weekly registration is offered in the summer and enrollment is now open for the 2021-2022 school year. Social distancing and face coverings are required. Outdoor drop-off and pick-up are in place.
Rentals – Full-capacity rentals are now available at Fountain View and Simkus Recreation Centers. Private rentals are also available at picnic shelters, Coyote Crossing Mini Golf, Coral Cove Water Park, and Fountain View Indoor Pool. NEW this year, rent the McCaslin Splash Pad for your private party.
Learn more: Rentals INDOOR and OUTDOOR
Youth Birthday Parties – Now booking all indoor and outdoor youth birthday parties!  Learn more.
Special Events – Check out all of our upcoming indoor and outdoor special events.
Sports – Outdoors, unvaccinated persons may choose not to wear a face covering when able to maintain a six-foot distance. Indoors, unvaccinated persons should wear face covering and maintain a six-foot distance. Additional guidance will be provided at the beginning of each season. Check website for details.
Browse the Digital Guide for current program opportunities.